On the border of the North York Moors, a little less than seven miles to the east of Northallerton is the village of Nether Silton.  Though the population is numbered in the region of one hundred inhabitants, Nether Silton nevertheless boasts a real country pub, The Gold Cup Inn, and amongst other interesting features in All Saints Church, the altar rails are supposedly made with wood taken from HMS Dreadnought.
Yet another noteworthy feature of this sleepy Yorkshire village can be found in the field to the south of All Saints, where stands a stone with a strange and puzzling inscription…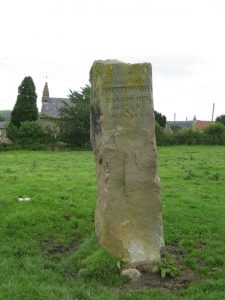 This squared-off stone pillar stands some 6 feet high, and on one face is caved with six lines of curious inscription in capital letters.  Apparently marking the site of a Mediaeval manor house, long since gone, when the building was demolished (or burned down, depending on which story is related) the landowner, a Squire Hicks, decided to leave a lasting memorial on the spot, and commissioned the stone carved with what is referred to as a "mnemonic" inscription which runs:
HTGOMHS
TBBWOTGWWG
TWOTEWAHH
ATCLABWHEY
AD1765
AWPSAYAA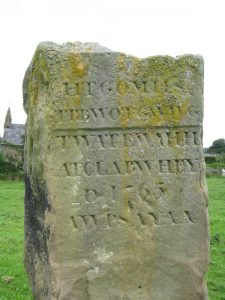 Though it's known as the Puzzle Stone, it's not so much of a mystery once the answer is revealed, however:
HTGOMHS – Here the grand manor house stood;
TBBWOTGWWG – the black beams were oak, the great walls were good;
TWOTEWAHH – the walls of the east wing are hidden here;
ATCLABWHEY – a thatched cottage like a barn was here erected year
AD1765 – Anno Domini 1765;
AWPSAYAA – a wide porch spans a yard and alcove.
Easy, when you know how!